I am up to my ears, but still love taking the tour ???
❌ BECAUSE…‼️ …
If I don't do this, a "sickness" rises upon me. I…..
Miss Trang Tien popsicles in the grand opera house
Miss Hang Dao street where happens the crowded night market
Miss Nha chung street where stands The st Joseph Cathedral
Miss the west lake where lies the Tran Quoc pagoda
Just do it!, This is also the enormously high spirit of one pretty little girl. Today let's continue with  HFTGs, together with Trang, sharing about her short, but interesting tour!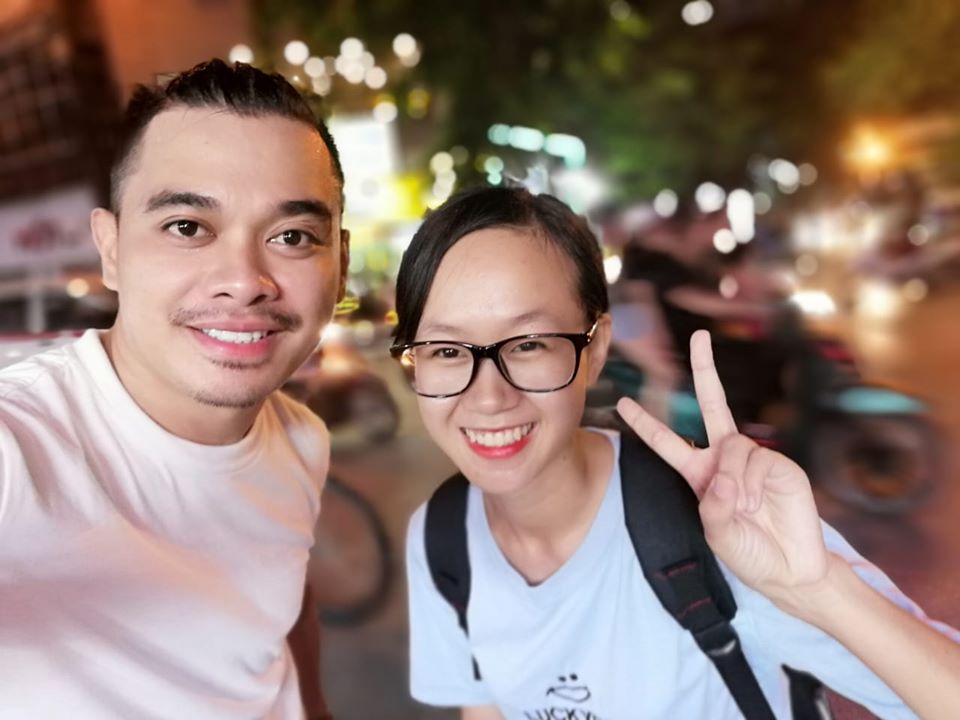 —————————————-
[THE SHORTEST TOUR EVER]
"Friend from Philippines, Ian-ru ?.
It's been my shortest tour – 1.5 hour!
As planned, my tourist and I would meet up at 8p.m at No.10
Tong Duy Tan street.However, due to some changes from my tourist, the tour started at 8:30 p.m.
There was a problem here! When I arrived at the address and contacted my tourist…his hostel was at 16 Hang Muoi ? He forgot to inform me about this? Ian-ru quickly took a Grab and came to my place! ?
I took him to enjoy some food at Tong Duy Tan street but…most of the time, we totally talked and shared stories with each other? It looks like we have been best friends for a long time! It's not the first time we've met each other ! Ian-ru said I looked like a Chinese girl but…I am totally 100% Vietnamese ! ?
At 10.15p.m, I needed to come back to my dorm ( cuz it closed at 11p.m ?) and Ian-ru also needed to relax for his trip tomorrow! This time I'm not sad cuz he will come back in winter ! ? See you soon, Ian-ru!
P.s: at first, while replying his email, I thought he was a girl and his name was Lan-ru, not ian-ru ?cuz…at that time I did not wear my glasses ?"
—————————–
Trang Vũ- English department
(HFTGs in my heart – 2019)