Pho (noodles) always ranks the first in the list of must-not-miss Vietnamese dishes.
It is a regrettable mistake to talk about Vietnamese cuisine without mentioning Pho. The presence of Pho is so popular that it is almost impossible to walk a block in major cities without coming across a crowd of hungry customers satisfactorily slurping a bowl of hot, spicy noodles.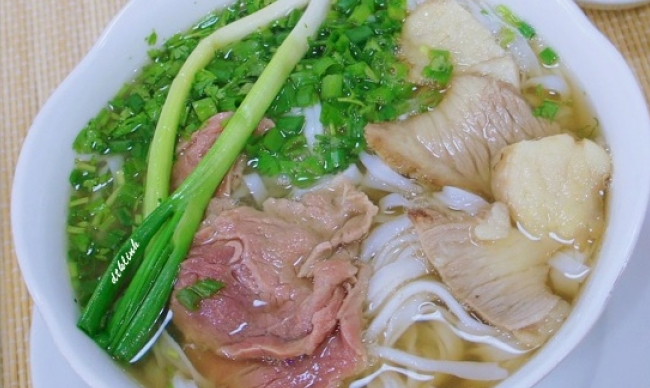 Despite variations in ingredients, the main elements of the dish are steamy broth, fresh rice noodles, sliced beef or chicken, and herbs or scallions. Broth is made by simmering well pig bones or beef bones and adding many kinds of seasonings such as onion, ginger, cinnamons, coriander seeds, star anise, black cardamom and clove. However, there is no fix recipe of making broth. Instead, based on experience, each restaurant has its own "secret recipe" to create distinguishing taste.
The Vietnamese have habit of eating accompanying vegetables and this habit shows clearly in eating Pho. Beside a bowl of steamy Pho is always a plate of various fresh vegetables such as lettuce, bean sprouts, coriander or basil. The combination of hot Pho and the freshness of vegetables will certainly leave an unforgettable experience in customers' mind.