2014 witnessed the unforgettably successful first season of Party winter light "the colors of cultures".
Following the footsteps of 2014, this year 2015 Hanoi Free Tour Guides once again came off well with "Light the night", the first prom and also the annual event where all members gathered together to celebrate one productive year.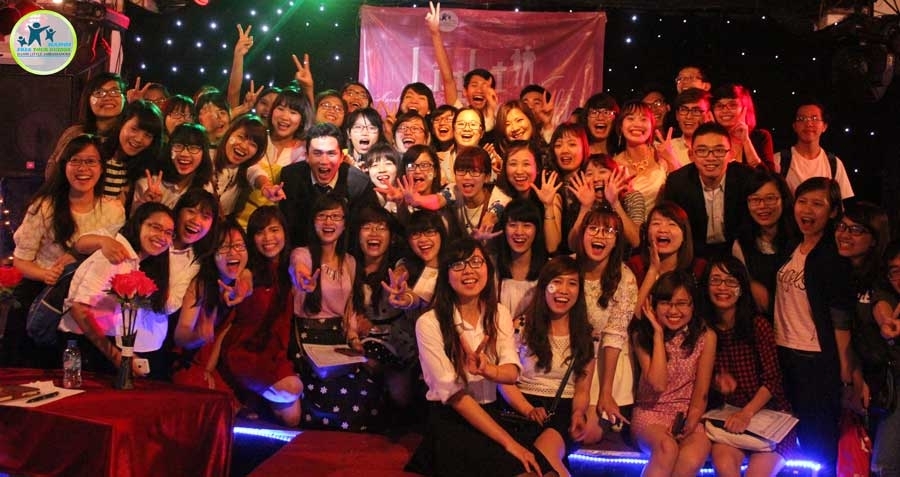 Taken place in Kandy Club, "Light the Night" filled up the place with bustling atmosphere, mixing with intensively fret emotions; the show indeed embedded memorably vivid recollection in all members.
The show started at 6 pm, but numerous guests and participants arrived anxiously early to catch the preparations of the performances. Ray of hope and expectations reign their hearts as light of excitement sparkled in their eyes. Exploding Kandy Club with effervescent Michael Jackson Dance cover significantly stirred up the atmosphere which made the audience feel the beat and indulge in the heat. Wallowing in the tender, serene and poetic piano performances brought everyone to another place, the place of tranquility, peacefulness. Enjoying wonderful songs given by Hanoi Free Tour Guides members who sang like birds and running into consecutive surprises of magic tricks surely engraved deeply on everybody's minds.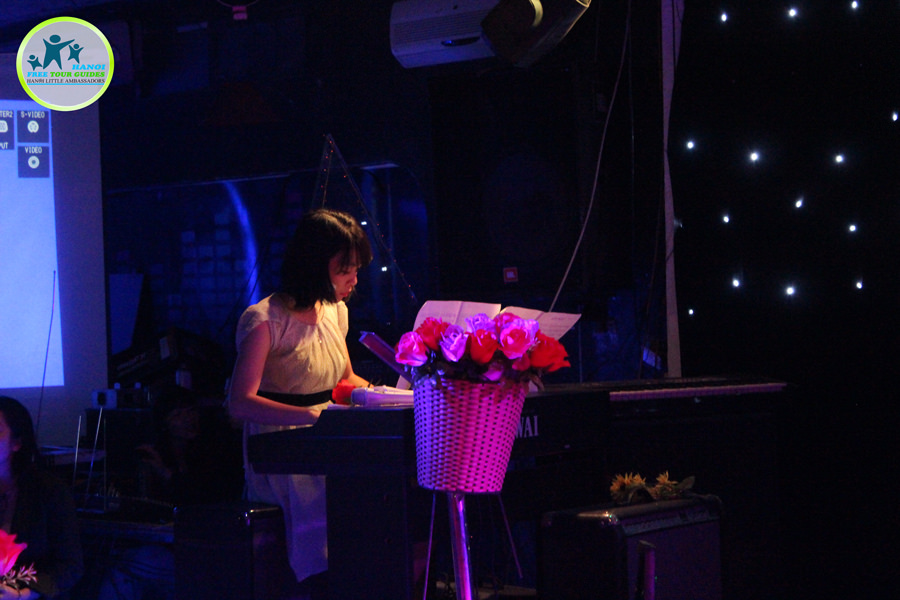 Piano Performance by Ly Tran
Coming in between impressive performance were I-Style competition in which each group represented one topic and they had to depict its specialty via manmade clothes.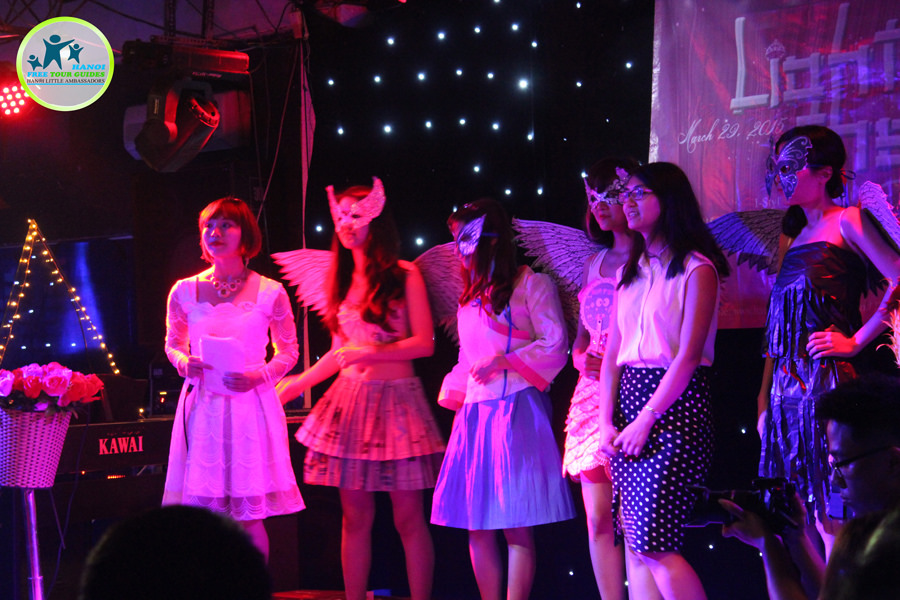 Fashion Show I-Style
"Light the Night" was not only a show, a party to enjoy good times together, but it was also a celebration of 5-year Hanoi Free Tour guides. "Light the Night" took us back the time where our organization set the first brick with the aim of bringing Hanoians and foreigners closer with full of struggles and difficulties. "Light the Night" commemorated the most active members, honoring their valuable contributions as prime examples to encourage newbies to try even harder to build a stronger Hanoi Free Tour Guides.
5 years – a journey.
5 years is neither a long period of time nor a short one. 5 years is our first journey, the journey of accumulating knowledge and experience, of achieving certain success yet yearning for more achievements in the future. To make this happen, we would like to express our deepest and sincere gratitude to all members and those whose passion and love for Hanoi Free Tour Guides are so tremendous that encourage us to take a farther step, to grow mightier and fulfill our duty as Little Ambassadors of Hanoi.
Ly Sữa