Money exchange:
Usually airports and train stations offer better exchange rates than in town due to the local competition, but this is not always the case, especially when there is limited competition.
Most banks will exchange foreign currency, either U.S. dollars or euros, during normal banking hours. You'll also find a few money-changing storefronts along Hang Bac Street in the Old Quarter and around the edge of HoanKiem Lake. Hanoi Sacombank, 88 Ly ThuongKiet (tel. 04/3942-8095), is one to try.
ATMs – Most major banks in Hanoi and even countrywide now offer ATM service. Look for Vietcombank and Incombank branch locations throughout the city. New ATMs are popping up all over. Ask any hotel concierge where to find one. Consult with your bank office at home to inquire about international ATM usage fees. Most ATMs enables you to get cash from VISA, MASTER CARD, Cirrus, Maestro, Plus and JCB networks, and can be used to get cash advances through your credit card.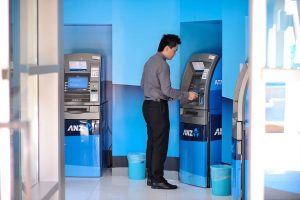 Under Vietnamese law, ATM may only dispense cash in Vietnamese Dong (VND). ATMs dispense dong in VND 50,000 and VND 100,000 denominations, with a limit of VND 2,000,000 for each withdrawal and a daily limit of VND 20,000,000. ATMs will charge a fee of VND 50,000 per transaction.
Credit cards. Many shops, hotels, and restaurants centered in tourist areas honor Visa, MasterCard and JCB cards. Credit card usage is uncommon among local Vietnamese (banks require a cash deposit on hold), so penetration is comparatively low. Expect to be charged an additional 3-4% on every transaction. If you need cash in a hurry, Vietcombank offers cash advances against your Visa or MasterCard credit card.
The Art of Bargaining
There's one golden rule to shopping in Vietnam: bargain, and bargain hard. "Fixed prices" at most tourist shops aren't really fixed at all – the listed prices are about 300% higher than the last price you can pay if you dicker long enough. Bargaining is an exacting discipline, and quite exasperating for the novice traveler who's not used to the grueling back and forth.
Other Helpful Money Tips
– Budget travelers in Vietnam can expect to spend up to $25 a day on food and lodging. Middle-budget spenders can enjoy good restaurant food, hire cabs, and stay comfortably in good hotels for about $65 a day.
– Don't change your currencies on the black market. The legal exchange rate beats black market rates any time; claims of better rates are probably just the lead-up to a scam. Today, travelers often find themselves left with a few counterfeit or out-of-circulation notes in the mix – it's not worth the trouble.
– When visiting a pagoda, leave a small donation just before you leave.
Bring a small calculator to calculate currency conversions.
– Travelers' checks are nearly impossible to exchange outside Vietnam's major cities and tourist areas. Bring hard cash when leaving the beaten path.
– Store cash, credit cards, and other valuables in a safe place, like the in-room safe in your hotel.