Vietnam takes pride on the very first President – Ho Chi Minh (or Uncle Ho), the National Liberation Hero.
1.Brief information about Ho Chi Minh
* Who is Ho Chi Minh? His role in the country's history?-
– Ho Chi Minh is the great father of Vietnam, who dedicated his life to save the country from invaders.
– He was born into an educated family. Since he was very young , he soon expressed as a talented and patriotic person.
– In 1930, Ho Chi Minh founded the first Vietnamese Communist Party. Under his Party's leading, Vietnamese people were successful in fighting against the French occupation and had our own independence, when he became the first president of Vietnam.
– Respecting his contribution and modality, for all Vietnamese family, he was regarded as the Great father or simply Uncle Ho.
* When did he pass away?
– Uncle Ho passed away in 1969, at the age of 79. Actually, in his will, he asked for a simple funeral(tìm bổ sung câu nói của Bác và translate nó) and wanted to be cremated then buried in three parts of the country. The North was the place where he worked and led Vietnamese revolution. The Center is his home land and the South is where in1911 he left for finding to new way to release the country and had no chance to come back since then because of the war
2 .Ba Dinh square:
* Brief introduction about this area
– When the French come to Hanoi, they quickly turned this area into a political centre of Tonkin/the North. As you can see today, there're many French buildings around here, which used to be head companies and important offices under the French domination.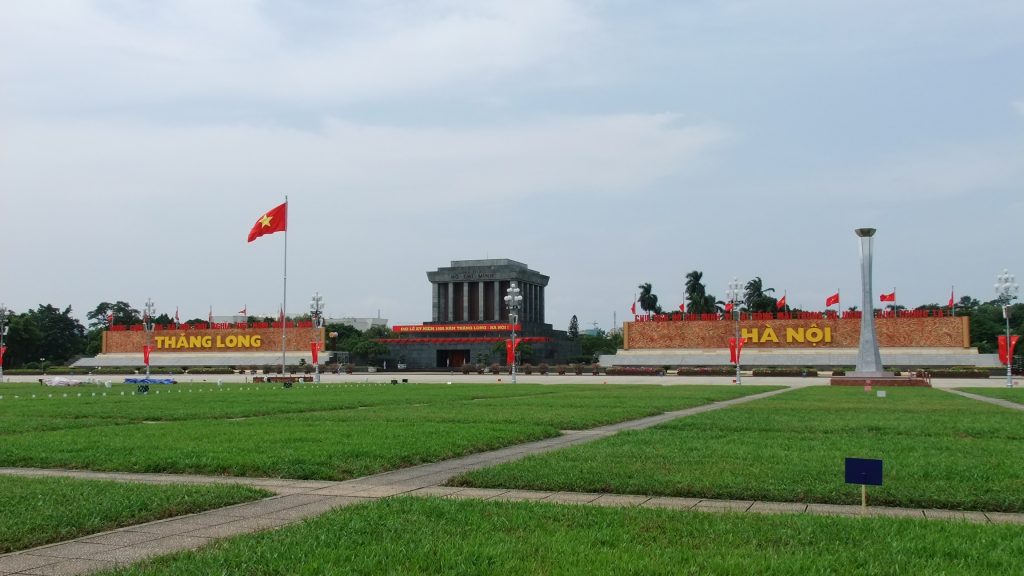 – On 2nd September 1945, after the August Revolution, the French were defeated and Ho Chi Minh and his fellow took power the whole country from the North to the South. The young government renamed this area as Ba Dinh square. Ba Dinh means three communal houses. It is originally the name of a village in Thanh Hoa province (about 170 km from Hanoi) where the first resistance against the French colonialists of Vietnamese people took place. So when Hanoi got freedom, the Vietnamese government decided to give the name Ba Dinh to this district to remind of our brave history.
– Up to now, Ba Dinh district is always considered the political heart of Hanoi, where most of government's, Party's and National assembly's offices are located
* About French architecture in Hanoi?
– As you know, after completing their invasion in Hanoi, the French designed a Master plan for the city's development, many Western streets appeared, a lot of buildings were under construction. It is true to say that the French architecture made a great influence on Hanoi scenery.
– All the buildings with French architecture were designed very carefully to adapt to the weather in Hanoi. It made the buildings always cool in summer and warm in winter.
– General speaking, French building in Hanoi always painted with yellow color. It makes the building to be outstanding in the green garden. However, there's another explanation: as under the feudalism, yellow was a scared color which used only by royal family. So when the French came to Vietnam, they wanted to used the color to prove with local people that their position were as high as a king.
* Why Ho Chi Minh mausoleum was built here?
– This is where in 1945, President Ho Chi Minh read the Declaration of Independence on Sep 2nd, 1945 – marking the establishment of the Democratic Republic of Vietnam.
3. Ho Chi Minh mausoleum:
* What is the reason for building Ho Chi Minh mausoleum?
– In Vietnam war against America,Vietnam was divided into 2 zones. The North was under the control of the Vietnam's government. It led Vietnamese to fight against America's army dominating in the South. The Southern people were always missing and looking forward to the country reunification and seeing the Great father. When Uncle Ho was alive, his great wish was also to see Vietnam united and to visit the Southern people once again. Unfortunately it did not happen. Thus, Vietnamese government decided to build the mausoleum to keep his body remain so later on people from any part of the country and foreign friends can visit him.
– With a great help from Soviet Union, The construction project started in 2nd Sep 1973 and completed on 21st August 1975. It was built at the exact place where president Ho Chi Minh read the Declaration of Independent in 1945.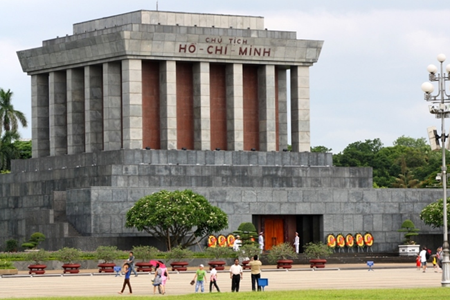 * Where was Ho Chi Minh's body before this mausoleum was completed?
– At that time, the war against American army was at its violence and it was impossible to carry out the project easily. So, when Uncle Ho passed away in 1969, his body was firstly embalmed by Vietnamese and Soviet Union experts and kept in aseptic environment in secret places while waiting for a peaceful day.
– Firstly, it was preserved in a hospital in Hanoi (108 hospital).However from 1969 to 1975, because of some unexpected risks (the US escalated the war in 1969, Hanoi was seriously flooded in 1970 and the US aircraft's severe bombing in Hanoi in 1972), his body was moved to an army base which is 60km West of Hanoi (K9 – Đá Chông – Sơn Tây). The movement was extremely difficult, as they had to minimize any shakes while maximize the speed to reach the new lab for the dead body maintenance. The base's infrastructure was quite basic, all equipments were imported from Soviet Union, but Vietnamese doctors had to make a lot of changes to adapt with Vietnamese tropical climate and war condition.
* About the construction project? Where did materials come from?
– Ho Chi Minh granite mausoleum modeled after Lenin's Tomb in Moscow. But the architecture was carefully designed to reflect Vietnamese culture and lifestyle.
– The first step of building was far more difficult than everyone's expectation; they found it's almost impossible to drive in a stake for foundation. Finally, after a fully survey, they found out that the mausoleum were building on the foundation Western gate of the ancient capital citadel, which had some huge rocks under the earth. They had to set off a couple of mines to break the rocks first.
– It was built with contribution from all over the country:
Every province send their own resources or product to build this mausoleum: marble, red plum marble, gold, tile, and even trees to decorate the mausoleum surrounding
Every people living in Hanoi had at least one day voluntary to work at the mausoleum construction site
* Signification of its structure and details
– The mausoleum is surrounded by square marble columns and divides the building into five sections. It reminds of the traditional house of Vietnamese in the countryside – where uncle Ho was born and grew up.
– On the façade are the words "President Ho Chi Minh" written in red plum marble. This material is considered to be symbol of lofty and morality of President Ho Chi Minh.
– Inside, you can see the golden sentence "Nothing is more precious than independence and freedom" – one of the most well-known sentences spoken by Ho Chi Minh and this is also the lodestar of Vietnamese war resistance against the invaders.
– In front of the mausoleum, there're hundreds of grass cells which can be imaged as mats used in Vietnamese communal house for Vietnamese people to gather around their great father Ho Chi Minh.
– Bamboo is the traditional tree in Vietnam. We can easy to see it in many Vietnamese villages. Bamboo is a group of perennial evergreens. It is one of the fastest-growing plants on the Earth with reported growth rate of 100 cm per day. Furthermore, the tree always grows in cluster so that it can survive through many severe storms. Thus, the image of bamboo is regarded as the sprit of Vietnamese people: solidity, unification and vitality.
The bamboo range on both side can be understood as defenses for this museum.
4. The Presidential Palace
* What was it built for?
– This building was designed by a German architect for a French Indochina Governor. The construction project started in 1900 and completed in 1906.
– It was the most fussy and expensive construction at that time. Rock, tile and brick were tailor-made at some factories in Vietnam while fir, window bar, glass… were imported from French and other European countries.
– When the project was completed, this building had 36 rooms and named Indochina Governor Palace.
* What happened to this palace when Ho Chi Minh's government took power?
– From 1945 to 1946, it was in turn occupied by Japanese fascists and Chinese military. Then since 1946, when the French came back and determined to win it wicked intention in Vietnam, it reinforced this place to be the most supreme base of the colonial French government.
– In 1954 after 9 more years fighting against the French, Vietnam entirely got independence from French domination. So this building was recalled the Presidential Palace.
– Uncle Ho was supposed to lived and worked there. However, Ho Chi Minh refused to live in this luxurious and huge building. He said it was totally unsuitable for his poor and starving people. He decided to stayed at a small house in this garden (House No.54)
– This palace was only used to welcome foreign delegations and Vietnamese children who came to visit their uncle Ho.
* And now?
Up to now, it's still for Vietnamese President to welcome many heads of states, high-ranking delegations of various parties and government all over the world.
5. The house No.54
* Ho Chi Minh's cars
– The Pobeda (at the middle) – a present from Soviet Union government in 1955, was very suitable for long distance and road. In 1960s, Soviet Uninon government also gave Uncle Ho some new cars with better quality. He refused to use and leave them to serve for Vietnamese diplomats.
– The Peugeot – a present from French – Vietnamese people in 1964, used for going around city and especially when uncle Ho's getting older and weaker.
– The Zis (the biggest one on the left) is the short name of Stalin. This brand was produced in limit and used as presents for national leaders of allies. The car has 10 cm bullet-proof cover. It is 3 tons heavy and 6 meters long.
– Once, someone asked him to replace these old and out-of-date cars with the modern ones but he refused, he said 'they're good and they're presents from his friends, nothing can be compared'
* The purpose of this house?
– This house used to belong to an electrician, who took care of the Governor Palace.
– From 1954 to 1958, uncle Ho lived and worked here.
– He'd a very simple life. Most of house facilities were gifts from people all over the world.
– In the bedroom are there a round table given by Fidel Castron and a Khuat Nguyen poet statue.
– In the kitchen, there is a thermometer. When the temperature was below 10 degree Census, Uncle Ho would ask Prime Minister of Education and responsible staff for primary students to have a day off. This helped keep them healthy. Since then, this regulation has been applied popularly.
– He'd never got married so sometimes he was lonely. Late in the afternoon, when everyone backed home, the radio – a gift of Hungarian students was turned on all the time until uncle Ho went to bed. He said "he needs to hear human voice around to warm him up"
– The third room is his living room and meanwhile the working place. There are up to about 300 books on various aspects inside the room. The toy on the table was a present of Vietnam- Soviet friendship association.
6. Ho Chi Minh house on stilts
* Why was the house built and When did uncle Ho moved to the house on stilts?
– After nearly 4 years healing war destruction and recovering economy in the North, society gradually came into stability and development, people's living standard was improved. Therefore, Vietnamese Communist Party and Ministry of Politics expected to build a new house for Uncle Ho. He agreed with this expectation and wanted to have one similar to a house on stilts in Northern mountainous areas. The house would reminded him of the place where he had worked for Vietnamese Revolution preparation, received caring support and protection from all local people.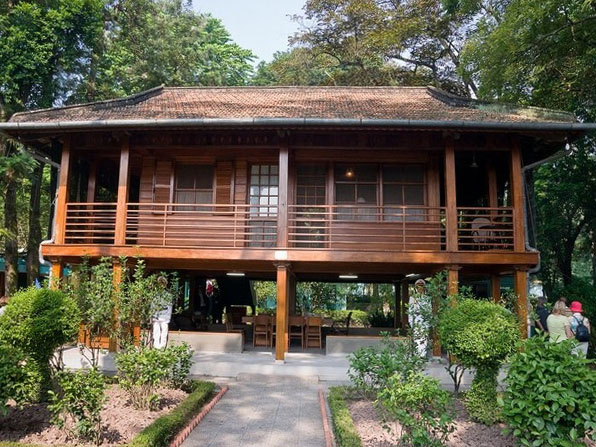 – Uncle Ho discussed directly with the architecture the house design. According to the original architecture of house on stilts, there was no cement bench or a fish tank. However Uncle Ho then suggested adding them as a space for children to play around if they come.
– The house on silts was completed on 17th May,1958 and was indeed a meaningful present for his 68th birthday. Uncle Ho moved to live and work there. But he still backed to House No54 everyday for lunch, dinner and personal hygiene.
.* About the surrounding garden?
– The house on stilts was located in an area of a botanical garden which established under the French domination. It came up with Ho Chi Minh's wish "As for myself, I would like a small house next to green mountains and blue water to fish and grow vegetable and nothing to do with fame and wealth".
– Trees in this garden are from all over the country. Lots of them were presents from local people and foreigners for uncle Ho, some of them were brought by himself from his business trip aboard.
– In 1973, knowing about the Ho Chi Minh memorial sites project in Hanoi, all provinces contribute their specific trees and flowers to this garden.
– There are many interesting trees in the garden with fruit trees such as pomelo/grapefruit, star apple, orange, coconut, etc, flowers such as orchid, jasmine, hibiscus, etc and some other trees such as bamboo, palm trees, etc
– Fish pond was raised firstly by uncle Ho. Previously, it had been just a stagnant pond. When Vietnam took power in Hanoi and Uncle Ho moved to live in this area, he suggested reclaiming the pond to raise different kinds of fish: carp, silver carp, anabas, etc. This helped refresh the environment and improve daily meals at the same time. Everyday around 4pm, he took a break to feed the fish. He always came on time and clapped his hands so these fish quickly learnt a habit of hearing this voice and coming up on the water. Long after his death, the fish still keep this habit
– The young fish and tree from this garden were delivered to many farmers and launched a movement (VAC) – a combination of garden, fish pond and breeding, which contributed to improving income, living standard of the Vietnamese.
* Its structure and signification? Ho Chi Minh's living in this house?
– The house on stilts is an excellent example of uncle Ho's simple life.
– The ground floor was used as a meeting place of uncle Ho and his fellow in the Ministry of Politics, or the army operation head quarters.
– There's a cement bench around the ground floor, which is not included in the original architecture of typical house on silts. Uncle Ho ordered to build this bench especially for his little friends – children from all around the country sometimes came to visit their uncle. The aquarium was also for the kids' entertainment.
– Upstairs, there were bedroom and studying room. Equipments in the house are also very simple, only the necessarily item… many of them were presents of him from his friend all over the world.
– The last ten days of his life, uncle Ho was getting too tired quickly and couldn't to walk upstairs; he had to moved to the ground house next to this one and went away from there.
– There's a clock in this house keep running, so Vietnamese visitors can feel as if their great father still alive and completely free from power and authority.
* Importance of Ho Chi Minh memorial sites to local people
-Ho Chi Minh has never got married and had no children. However in any Vietnamese people, we regard him as a relative in our family. We call him closely as uncle Ho. Everyone tries to take a chance to visit his memorial area, where he stayed and lived.
– Since it opened in 1975, there's around billions of visitors come to this complex, both local people and foreigners. On average, there are around 10 thousand people per day. On the special day like the National day, Victory day, the number can be twice or three times bigger.
– For the little kids, after a school year, if they've worked hard and had good results, their school will organize a kind of intensive trip to this complex as a present for them. The kids would be very proud of themselves and learn a lot of Ho Chi Minh's life.
7. House No 67
* Why and how was this house built?
– The war against America army was at its violence. In 1967 a rocket exploded and destroyed a house on Hoang Dieu Street, no far from the presidential palace. Facing that danger, in a case when Uncle Ho was on his business, Political Ministry decided to build this house for him to work in more safely. The main face turns to the East North. The house was reinforced with concrete like an up-surface cellar in order to prevent from bomb fragmentation and pieces of rocket. Ceiling and walls are all thick and strong. The house was painted in green to match the color of trees in the garden, not only to create cool feeling, but also to disguise in order not to be realized by enemy's airplanes.
– Uncle Ho did not regard it as his own house but a meeting place between him and Political Ministry or high-ranking officials discussing important national issues.
* When did HCM move to live in this house?
– In his last years, Uncle Ho's health got increasingly worse, plus his weak heart, it is impossible to continually move from house on stilts down to the bomb shelter. A single bed was placed near meeting talbe of the Political Ministry in this house for Uncle Ho to rest when there was air alarm.
– Uncle Ho passed away at 9:47 a.m on 2nd September, 1969 in this house.
8. The One pillar pagoda:
* Why there's a pagoda here?
– Hanoi became the capital in 1010, when one king decided to move from a mountainous area to the delta, which is more convenient for cultivating, trading and traffic. The king ordered to build a lot of royal palaces, temples and pagodas for the new citadel.
– The pagoda was built in 1049, under the reign of Ly Thai Tong. But at that time, it was a group of structures consisting of a pagoda and a tower built in the middle of a square lake. The whole group was officially called Diên Hựu (long lasting happiness) pagoda and Liên Hoa (lotus) tower, but the tower has traditionally been called the One-pillar pagoda.
* Its unique architecture: legend and signification
– Its unique architecture based on the very interesting legend: in 11th century the King Ly Thai Tong was very old and had no son. Therefore, he often went to pagodas to pray for Buddha blessing so that he might have one. One night, he had a dream that he met a Goddess of Mercy, who was sitting on a lotus flower at the Western gate of the Imperial citadel. She gave him a pretty boy. Months later, the queen got pregnant and gave birth to a male child. To repay gift from the Goddess of Mercy, the King order the construction of a pagoda in the shape of a lotus, which was supported by only one pillar.
-The pagoda looks like a lotus blossoming from the square pond. .
– the pagoda was built in a square, 3 meters long on each side and it has a curved roof. It was built on a stone pillar of 1.2m in diameter and 4m high which is actually two posts skillfully joined as one. The upper story is a system of several pieces of wood which make up the solid frame supporting the main part to resemble a lotus rising from a small square lake with brick handrail. Visitors can climb up the beautiful stairs to see the statue of Quan Am and the words "Lotus Lamp" to remind them of the king's dream that inspired the pagoda.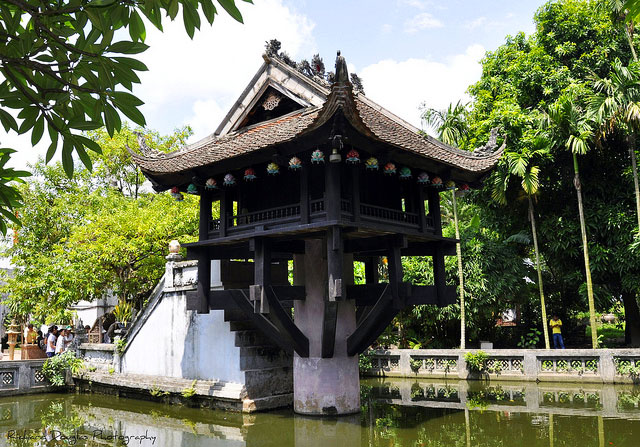 – the pagoda was originally much bigger. During its long history, the One Pillar Pagoda has experienced a number of changes each times it was repaired, especially in 1249 in the Tran Dynasty when it was almost rebuilt. It was also repaired many times in Le Dynasty and its lotus lamp and stone pillar have been made smaller.
– Today, there're many couple come here and pray for a child (especially a son).
* What happened to this pagoda in 1954:
-Unfortunately, on September 11, 1954 before retreating from Hanoi, the French soldiers mined and destroyed the pagoda. When the liberation forces took over Hanoi, uncle Ho required to rebuilt the pagoda in accordance with its original structure and completed it in April 1955.
9. Ho Chi Minh museum
The museum is located on an area of the historical Ba Dinh square, the last spot in Ho Chi Minh complex. It was commenced in August 1985 and inaugurated on May 19th 1990 right on the birth centenary anniversary of President Ho Chi Minh.
The museum was built in the shape of a white lotus flower, which is nearly 20m high, including 3 floors. In the centre of the ground floor, there is a hall with 400 seats, which can host domestic and international meetings, conferences and scientific seminars. The main exhibition area of the museum is on the second floor covering an area of nearly 4,000 square meters. More than 2,000 documents and show-pieces are displayed, systematically reflecting President Ho Chi Minh's life and revolution cause since late 19th century. Coming here, tourists can share a part of Ho Chi Minh's tough life.
The exhibition in the museum comprises three main contents:
President Ho Chi Minh's life and revolutionary cause, and Vietnamese people's implementation of the President's testament.
Exhibition on the Vietnamese people's life, struggle and victory under the leadership of President Ho Chi Minh (on the right side of Ho Chi Minh's biography).
Exhibition on the world's history with major events since the late 19th century. The exhibits are showcased in 8 halls (to the left of Ho Chi Minh's biography).